Hello Hello!
How was everyone's weekend? I had a super busy one, but a fun one also!
My sister-in-law had a baby shower which was lots of fun.. She is due March 10th!
Lately I've been eating lot's of fresh fruits and vegetables, and I've been LOVING them.
This was the fruit try I made for the superbowl
So I thought I would share what else I've really been loving this month!
1. Quest Bars
Quest was so kind to send me their new flavor! It is so delicious. I feel like I am eating a real oreo!! I love having it for dessert with a cup of almond milk. Yes, I am that person that can drink straight almond milk, I just love it!
I think their next flavor should be carrot cake, what do you think? I wonder who I can contact about that one!!
2. Avocado!
I also made a super easy guacamole for the superbowl, which I slacked in sharing, so I hope to share it this week with you!
Last night I was experimenting in the kitchen with some leftover fruit and veggies and whipped up a pineapple salsa for dinner with avocado, and that brings me to my number three favorite…
3. Homemade Pineapple Salsa
pineapple, avocado, red pepper. red onion, salt
I topped my baked cod with it. What a good decision that was.
4. Simple Truth Bacon
5. Cupcakes
6. Reebok Cupcake and Kettlebell Tank
7. The Walking Dead
The Walking Dead returned last night! I love this show!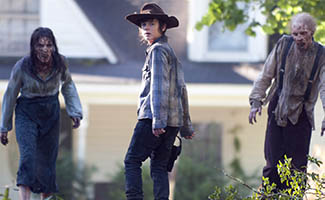 Any one else a fan?
What are you loving lately?